The last quarter of the year is typically conference season and, for the HEOR/Market Access/Value Communication Industry, the ISPOR[i] Europe conference is a regular feature in the autumn calendar. During the conference, the exhibition hall is now often crowded with consultancies and vendors with the goal of meeting potential customers among the pharmaceutical industry representatives in attendance. Regardless of whether they are long established or newcomers to the ISPOR Europe exhibition hall, effective differentiation is one of the main challenges consultancies face as they compete against other providers.
In mid October 2018, we undertook an analysis of 17 consultancies, all of which had posted on LinkedIn regarding their intention to attend or exhibit the ISPOR conference in Barcelona in November 2018, and all of which might be considered as HEOR, Market Access, Value Communication and/or Medical Communications service providers. The analysis considered the most recent LinkedIn posts made by these consultancies, as well as their LinkedIn company profiles and company website home pages and/or "about us" pages.
Descriptor statements about each company were extracted into a table. From there, key descriptor words were identified and grouped into categories with other similar words. In total 19 categories of descriptors were identified which are illustrated in fig. 1 where the size of the font indicates the frequency of use, with the most used being largest.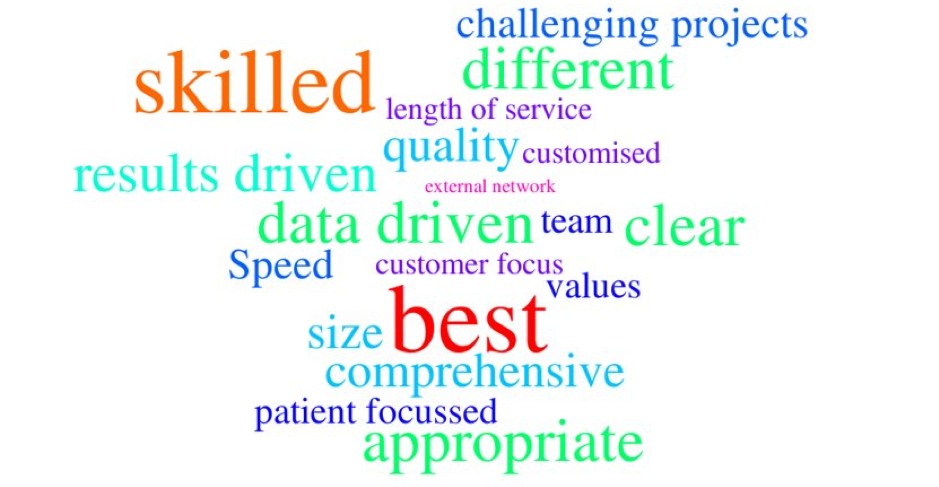 Most of the consultancies (82%, n= 14/17) chose to describe themselves in some way as "the best" among their counterparts, with a range of words used to communicate this sentiment (fig. 2, size of word correlates with frequency of use). While this is a somewhat obvious marketing claim to make, it has to be said that in no instance was the descriptor based on an explicit reference to winning an award or external objective assessment, which calls into question whether such a self-descriptor would really sway a potential customer, after all there can really only be one "best" and the very fact that it is used by the majority of consultancies somewhat dilutes its potency as a value proposition.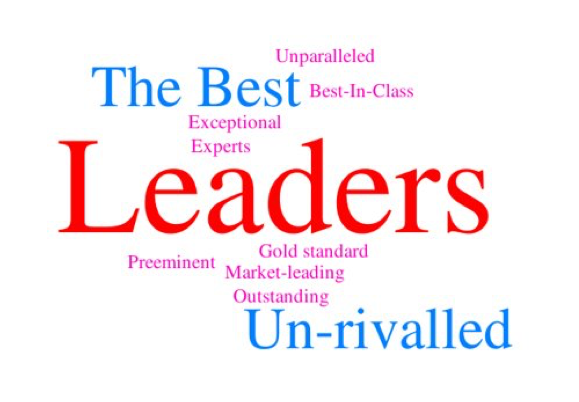 Instead of, or as well as, describing themselves as "the best" some consultancies attempted to highlight the ways in which they are different. Descriptors relating to being different were used by 47% (n=8/17) of the consultancies analysed. In some cases these were used with no explicit explanation of how they were different, which again may dilute the potency of the statement. However, inherent in some of the descriptors there is an indication of the intent (fig. 3), with most pointing towards solutions that are not bound by templates or norms and are therefore unconstrained in their ability to find the best solution. Being focussed on finding a solution to meet the client's need as opposed to being focussed on fitting a project brief into a narrow set of pre-defined methodologies would appear to be an appealing attribute and, judging by the frequency of use, consultancies assume it to be so. It is interesting to note that it is not always possible to claim adherence to the "gold standard", while also claiming to be "different" because these claims demand a degree of conformity to established methodologies. By way of illustration, t is known that child prodigies rarely become entrepreneurs, because they achieve perfection in the established art and do not usually deviate or redefine it.[ii]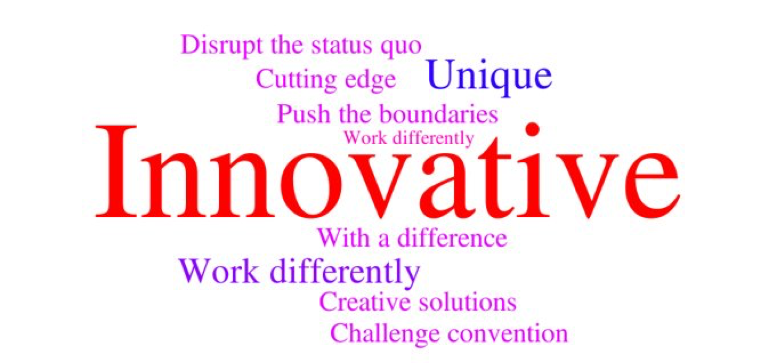 One way of defining superiority is in relation to the results which a customer can expect by engaging with a particular consultancy. It is of note that 41% (7/17) of the consultancies used descriptors relating to being 'results driven' (see fig. 4). In all cases some mention was made of how these results were achieved, for example "hands-on support from world class experts" or utilising unique methodologies and tools, the latter being an example of how innovation and unique approach can be congruent with achieving best outcomes.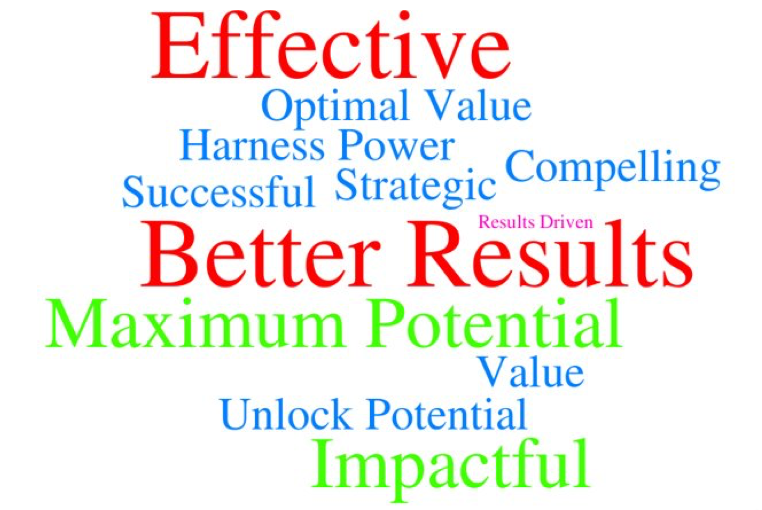 Breadth/depth of experience and length of service were also used as a rationale for expectation of better results. Over three quarters (76%, n= 13/17) of the consultancies specified that they were skilled, knowledgeable or experienced. Various consultancies focussed on different types of skills, knowledge and experience ranging from technical, operational and analytical skills and experience in diverse therapy areas, industry experience, NHS experience or therapeutic area experience. Tied to this attribute, is the fact that 35% (n=6/17) of consultancies referred to their length of service as a presumed indicator of knowledge and skills gained through experience. We would caution that this marketing message should always be held in tension with a desire to present oneself as cutting edge, up-to-date and innovative. For example, a long established academic intuition may wish to trade on it's heritage but must be careful not to appear outdated.
Another potential tension could exist between the desire to communicate ability to work on "challenging projects" (29% of consultancies, n= 5/17) whilst also retaining an ethos of "clear simple communication" (47%, n =8/17). Clearly at times projects will be necessarily complex, but the ability to communicate even these projects in a clear way that resonates and is fit for purpose strikes the ideal balance.
Similarly, a tension may exist between demonstrating that a consultancy offers multiple services via specialist experts (35%, n=6/17) whilst wanting to communicate that individuals work as a cohesive team within the whole rather than in siloes. Nearly a quarter of consultancies (24%, n= 4/17) emphasised that they work as a team, with a number of these using the word "integrated" presumably for this purpose. Retaining customer focus was highlighted by 17% (n=3/17) consultancies, which would offer another reassurance against disjointed delivery. It is of note, that one consultancy highlighted that having an intentionally smaller size, also enabled dedicated service and this has anecdotally given rise to the phrase "boutique consultancy" in more common use of late. Conversely, the other 4 consultancies that mentioned "size" as a value attribute, assumed that bigger is better.
Anecdotal experience observed by the Gatehouse ICS team, has seen a shift over the last decade from consultancies being "providers" to being "partners" with their pharma/medtech clients. Partnering was a term that was hailed by many exhibitors at ISPOR Europe 2017 and presumably aimed to demonstrate customer focus by way of collaborative working. There was less evidence of the word "partnering" in this analysis, however there was an indication that some consultancies have moved beyond partnering to empowering clients by equipping them with customizable tools to do the job themselves.
Customer focus descriptors (17%, 3/17) in this analysis seemed entirely separated from patient focus descriptors (23%, n=4/17) in that not one consultancy described themselves as both customer focussed and patient focussed. Gatehouse ICS has observed that in recent years "market access" as a term has given way to "patient access" and "risk sharing schemes" have given way to the term "patient access schemes", which raises the question of whether consultancies will also shift to a more patient focussed value messaging in the future. Though it could be argued that consultancies exist to help their customers (pharma/ medtech) to in turn help their customers (patients and healthcare providers) so customer focus may justifiably dominate patient focus in this case.
The same number of consultancies that mentioned patient focus, also mentioned core value attributes in their value messaging (23%, n=4/17), though the four consultancies associated with these descriptors were entirely different/distinct from each other. Honesty, integrity and being friendly are qualities that these consultancies took efforts to emphasise. This struck a chord with a common theme in our consultancy based sales training workshops which aim to deconstruct selling and remind participants that we are all "people" and that authenticity and personability are winning attributes in the consultancy based selling environment. As Tish Harrison Warren[iii]so vividly remonstrates; before we don our roles and get about the business of our day, each one of us in our first waking moments are in a vulnerable state of half consciousness, likely with bad breath and messy hair! This image is surely a great equaliser and a reminder that while at a conference we may be sellers and customers; we are first and foremost "people". Some of the descriptors relating to core values included explicit mention of charitable activities and working as a force for good which resonates with our ethos at Gatehouse ICS.
The image portrayed by many of the consultancies that highlight core value attributes is not just one which says: "you would have a pleasant experience as our customer" it is also one which says "we enjoy working here". In recent years Gatehouse ICS has also seen an upsurge in messaging from consultancies designed to illustrate that "we love what we do". This value message, conveying passion and belief in the organisation, is surely a bonus to everyday working and employee retention as well as a great sales message.
Value communication consultants spend considerable time and energy crafting the value messaging relating to the services provided by their clients. However, crafting their own value messages can be challenging. Research has shown that it is preferable to have peer review of your offering by someone in your broad industry, but slightly adjacent to your own niche, for the most accurate evaluative perspective for commercialisation.[iv] Someone in this position has enough knowledge to understand your market, while not being limited to seeing the boundaries of your niche or being too thoroughly immersed in your value message journey. The latter can be likened to trying to get someone to guess which song you are singing by tapping out the beat. If you are thoroughly immersed in the song, you will hear the tune in your head and make the false assumption that the listener is getting the full message.[v] In accordance with this principle, we consider ourselves "a consultancy to consultancies" providing peer review. We also provide customer insights interviews and adboards (panel of pharma company representatives) to add the important customer perspective.
Gatehouse ICS was established as a freelance endeavour after 15 years experience in health economic and market access consultancy and provides commercialisation support to vendors of health related research, services, products and data. This support is provided through freelance lead generation and business development, marketing advice and content generation and interview based market insight research. Our freelance position, against the backdrop of our prior consultancy experience, has given us an excellent vantage point to understand the breadth of vendors available to the pharmaceutical industry and to understand where truly unique service offerings and methodologies can be celebrated, and superiority can be substantiated in ways that resonate with customer needs and desires. Client interactions for us usually start with a free informal conversation where we share our views on your best positioning in the competitive healthcare consultancy environment.
Get in touch with Hope to book a free discussion.
Relevant customer comments:
[Gatehouse ICS] was able to understand and communicate our company capabilities and introduce us to a number of key Sponsors in our specific area of health outcomes research. The depth and breadth of expertise allowed us to communicate efficiently with [Gatehouse ICS] and led to a number of opportunities"
[Gatehouse ICS] delivered a very focused training session (Consultancy Based Selling), tailored directly to our selling situation and our group. Providing information that was relevant, in an engaging way and bringing out the human side of selling. I feel confident that I will be able to use everything I was taught in a real environment.
I enjoyed our discussion and your feedback shows that you quickly grasped most of the key points I was making about our model. I like your proactive approach too on suggestions for our website which I broadly agree with.
[i]International Society for Pharmacoeconomics and Outcomes Research
[ii]Grant, A. Originals. How non-conformists changed the world. WH Allen (9 Feb. 2017)
[iii]Harrison Warren, T. Liturgy of the ordinary. Inter-Varsity Press, US (1 Dec. 2016)
[iv]Grant, A. Originals. How non-conformists changed the world. WH Allen (9 Feb. 2017)
[v]Grant, A. Originals. How non-conformists changed the world. WH Allen (9 Feb. 2017)