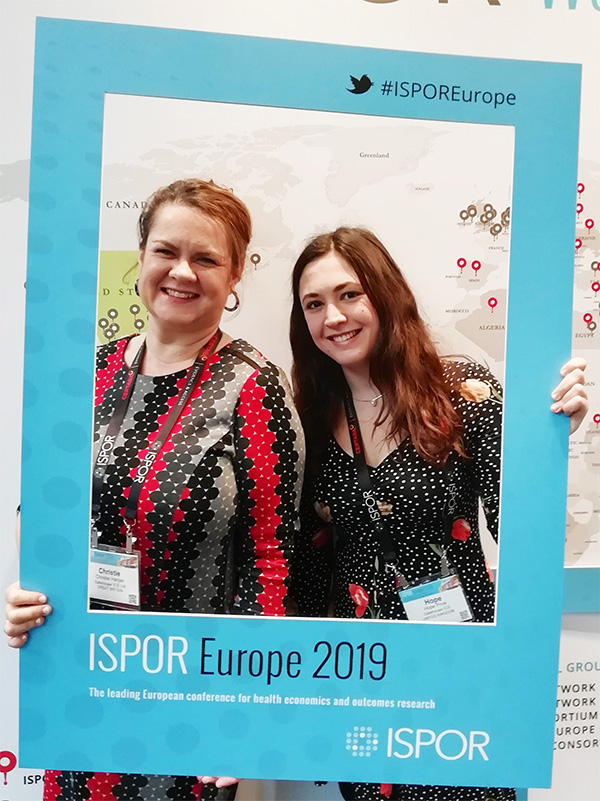 The Copenhagen rain rivalled my Wales homestead this year and the range of conference freebies did take a downturn (with some notable exceptions). This, I know, is more environmentally friendly than packing mounds of leftover stress balls onto airplanes but it did lead to an expensive airport purchase in order to placate my gift expectant sons. All of that said, my spirits were not dampened as I so enjoyed once again connecting and reconnecting with peers and friends and being inspired by innovations in pharma and vendor services. I also felt the exhibition hall was particularly well laid out this year, it didn't feel overcrowded despite the 108 exhibitors, though was potentially lacking in break out and lunchtime seating. By all reports, the sessions were high quality and inspiring also, so well done ISPOR!
This year, I was also accompanied by my esteemed colleague Hope Price who, two years post Chemistry Masters, is now an able Project Manager with me in stakeholder engagement and interviewing projects. It was enjoyable to see Hope experience her first ISPOR, even if it aged me to remember that my own was edging towards two decades ago.
You may have seen Hope, she was the one subtly wandering the exhibit hall, blue clipboard in hand, noting down the booth messaging of all 108 exhibitors (what a trooper). That data collection exercise has led to an analysis part of which is contained in this article. Think of this competitive intelligence as your early Christmas present. For more information get in touch by completing the quick quote form or send us an email. We will gladly book in a presentation or a bespoke market insights/competitor intelligence project related to your consultancy messaging or services.
So, sit back, mince pie and mulled wine (or your local festive equivalent) in hand, and see if you can guess the answers to these questions...
Q1. Which were the most used descriptor words on exhibitor booths?
Answer: Words related to "digital" were used by 35 consultancies and words related to "data" were mentioned by 33 consultancies.
At this point it is worth noting that the total number of exhibiting consultancies was 96, with the remaining 12 being educational institutions, pharma companies, linguistic companies, recruitment companies and ISPOR itself. For clarity, these 12 were not included in the full analysis. Therefore 34-36% of consultancies, that is over a third, are marketing themselves as being associated with digital tools or processes and the same amount are marketing themselves as being associated with data, the two groups not being mutually exclusive.
These descriptors were head and shoulders above all other descriptors captured. This may be unsurprising given the digital theme of the entire conference and indeed it intuitively resonates with where the market is going. What may be surprising is how little is said to explain these offerings over and above the use of the word itself. For example, the word "data" was often coupled with other descriptors, many of which indicated speed or power, but no explanation was given regarding this word choice. What is it about the data offering that is being accelerated by that consultancy's offering? What do they do, that the other 30+ booths offering data services do not do? Do they have a new source of data? a new way to process or access it? a new way to use it? A jaunt past the stand and you would be none the wiser.
Likewise, with the digital descriptors, 8 (approx. 8%) of consultancies appeared to be marking digital products in isolation; while numerous others alluded to a suite of digital tools to help with different aspects of insights and access that were co-sold with consultancy. The booth messaging itself did little to explain these tools, which is perhaps understandable in a competitive environment. That being said, my "other side of the booth" viewpoint, enabled me to have conversations and compare notes which highlighted that some tools seemed very similar to others being promoted across the room and others appeared truly unique. It would be such an advantage to someone developing a new tool to have a clear view of the others that exist; get in touch if this resonates.
Q2. Which services were most marketed in booth messaging?
Answer: A whopping 50 (52%) of companies did not list any services on their booths at all. Ideally a logo and brand will in time become so iconic that a company does not need to spell out what they do (think Nike tick!) but in a "me-too" environment next to 95 competitors, this may be an oversight for passing potential customers. I am personally always a fan of "doing what it says on the tin", or rather "saying on the tin what it does" and found it refreshing at ISPOR to encounter the stand which basically told me at a glance that they had software to help with systematic reviews. Great! If I want that, I will stop… if not, I will walk on by (unless you have good freebies or chocolates… I always stop for chocolates)!
When I mentioned that I was writing this article to my associates in various consultancies, numerous individuals said it had occurred to them if one was to hide the company name there was little to explain what the company did or how it was different to neighbours.
Unsurprisingly, health economic services were the most marketed services by 25 (26%) companies, though perhaps this isn't as high as one might expect in a health economic conference, showing some divergence into other disciplines with the evolving landscape and acquisitions among vendors in this space. Communications was marketed by 13 (14%) of companies, pricing by 8 (approx. 8%) and systematic review by 7 companies (approx. 7%). It was interesting to see the increase in other disciplines coming through with regulatory affairs and safety being mentioned by 6 and 3 companies respectively (approx. 6% and 3%). This may be due to the numerous outside discipline acquisitions that have happened in the HEOR space, but also because there is a merging of regulatory and reimbursement in the product pathway, especially in rare disease where the timelines are condensed.
Q3. How many booths referred to a specific geography?
Answer: 18 (19%) companies referred to a specific geography, with 13 (14%) referring to global services, reach or presence. Two (approx. 2%) claimed to be the gateway/key to European markets and 3 (approx. 3%) referred to expertise and network in a single specific country in Europe. A company may be wary of pigeon-holing themselves regarding a specific geography, however in a competitive environment, geography may be a key differentiator to get a new customer foot in the door. Arguably, rather than seeing 17 booths referring to "market access" without differentiation, it might be better to highlight these specialist niches.
Q4. Which descriptors grew in prominence this year versus a similar analysis in 2017?
Answer: A couple years ago we saw the emergence of messaging relating to emphasising the patient. Market Access as a term started to give way to Patient Access and the patient voice is now called for at every stage of the pathway from innovation and design, to regulatory and right through reimbursement and marketing. It is perhaps unsurprising then that this word has increased in prominence in consultancy messaging in 2019, with 20 (21%) of consultancies including "patient" in their booth messaging.
The other descriptor that has grown in prominence is reference to an expert network, which was mentioned by 15 (16%) of consultancies, with some wanting to emphasise that they have local specialists and global reach via such a setup, combining the best of both worlds with a boutique flexible approach across multiple geographies.
Q5. Which descriptors declined in prominence?
Answer: A couple ISPORs ago, it seemed like everyone was claiming to be a "partner" to their pharma customers. This year, that wording has diminished and was only mentioned by 3 (approx. 3%) of consultancies. Anecdotally and not borne out by this word analysis, we have noticed the shift over the last decade from consultancies being providers (handing over finished projects), to being partners and now we have seen the emergence of tools which aim to "empower" the client. The word "empower" hasn't necessarily emerged but the practice of handing over a customizable dynamic tool for the customer to build their own story or conduct their own analysis has seemed to increase.
And finally…
Q6. What was the most common colour for booth branding this year?
Answer: Yes…blue!...Always with the blue! Over 40 of the companies chose this as their main colour for their brand and booth. At which point I realise how uniform my own branding is to this trend (albeit with a jaunty accent) and therefore will just leave this one dangling as to whether it's a good choice to follow the crowd or a radical deviation in colour is the best route.
All that remains to be said, is have a great Christmas all and do get in touch via email or the quick quote form if a deeper dive analysis and some message testing with customers would help you prepare for next year's conference programme.
As for ISPOR Europe - Milan, here we come!