Innovation in healthcare includes development of new ideas, products, or ways of doing things that improve efficiency, effectiveness, quality, safety and/or affordability of healthcare. As innovation focusses on improving the current standard or provision of care, it typically starts with identifying an unmet need or a sub-optimal current standard; that is, something that NEEDS improving. However, it is also true that an advance in technology, or scientific breakthrough, may raise the benchmark above that which has thus far been thought satisfactory by current stakeholders.
On "paper" (or for that matter, in a lab or on a computer screen) an intervention may appear to make sense, in that it offers improvements which are desirable. A pre-implementation health economic analysis may even report axiomatic cost savings based on the stated scenario and may illustrate a cost-effective argument versus a comparator. However, it is prudent to sense-check these findings with end users, adoption-influencers and decision-makers before using them as a concrete basis for a business plan aimed at selling into the NHS.
A number of factors may influence the acceptability of a new innovation by the NHS, even when cost savings and improvements seem obvious at pre-implementation stage. These include:
Affordability: an intervention may result in downstream cost savings, but can the NHS at a national or local level afford to apportion part of its budget to the initial investment? Will this perspective be impacted if the intervention is an unplanned or a "nice to have", rather than an essential offering or if the comparator is thought satisfactory, even if inferior to the innovation?
Budget Segmentation: how acceptable are cost-savings to different stakeholders when they are realised downstream or from a different budget than that which the investment is required from?
Workflow Disruption: does the innovation demand that job skills and responsibilities change? Is there a training need or will certain staff be stripped of some of their prior roles, rendering their employment position vulnerable or unacceptable? Does the innovation require re-thinking of logistics such as how items are delivered to the hospital and distributed to the place of use? Does it require a change to the patient flow or place of assessment, intervention or consultation? A shift from primary to secondary care or vice versa? Will it impact waiting lists for other conditions? Does it require individual blood tests to be conducted or processed in a different way than all other tests in the same environ?
Supply Chain Reassurance: does the NHS need convincing of the stability of the new supply chain? How readily will they trade with a company with no prior history in dealing with the NHS? Would they prefer a partnering with an established provider in the first instance until stability is assured? Are there existing more experienced providers who might make viable partners rather than competitors to your offering?
Confirmation of Need: is the problem really a problem? If so, does the solution mandate a new design or would it be resolved through (for example) staff training?
Confirmation of Cost, Resource or Time-Based Savings: is the full patient journey mapped, including actions necessary for a patient after they have ceased engaging with the innovation? (e.g. when a diagnostic innovation rules out a diagnosis, but the patient still has symptoms that warrant further investigation or treatment).
Alignment with Commissioning Timelines and Processes: does one provider have the monopoly on provision due to winning a commissioning tender that remains current? When does the next tender process begin and are they any ways to circumnavigate the front door route of entry?
Confirmation of Comparator: What happens to patients in the current situation without the innovation? Can guidelines be assumed to reflect real world practice in this regard?
Supporting Evidence: A health economic model or calculation is only as good as the evidence base or assumptions within it. Is there real world evidence that the outcomes will materialise as predicted?
Competitors: Are there other providers already engaged in later stage discussions and assessments by the NHS at a national or local level?
For these reasons, an early stage assessment of likely NHS acceptability is essential. Such an analysis should ideally be underpinned by knowledge and experience of health economics, HTA and commissioning as well as interview-based insights from end users, influencers and decision makers at a national and local level from stakeholders within the NHS and externally adjacent to it.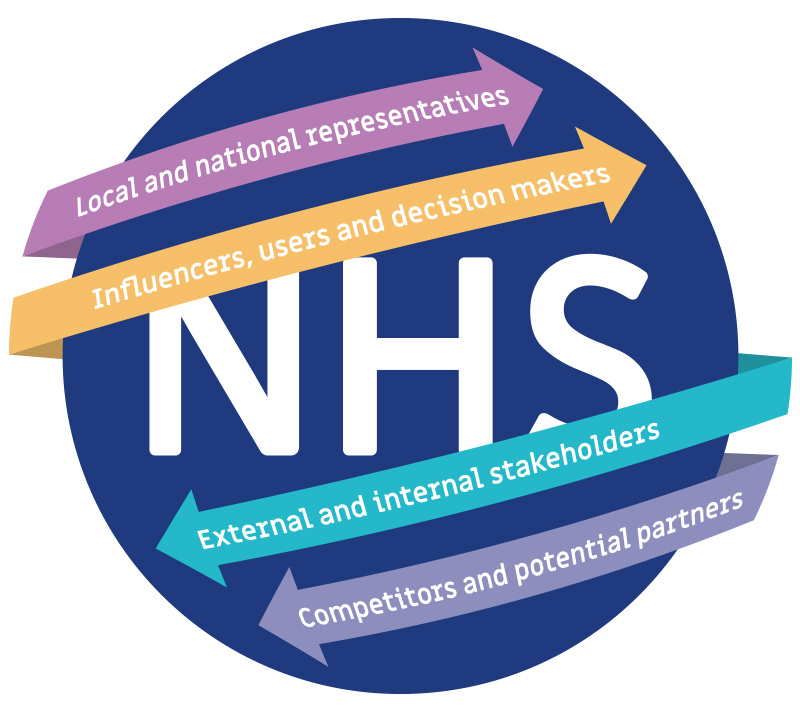 Furthermore, this activity can highlight opportunities, leads and routes to market that may not have previously been identified. For example, the innovation may resonate with local or national level policies or priorities which may even be supported by specific processes, people and bodies aimed at assisting introduction and speeding up adoption of such an innovation into the NHS. Examples may include NHS Improvement (when the innovation is congruent with their aims) or any number of local innovation or HealthTech hubs, digital health special interest groups, government catapults, innovation organisations, university IP departments and Academic Health Science Networks (AHSNs) as well as engaging with some of the newer clinical commissioning support roles that are appearing at a local level within the NHS.
Lastly, this exercise can confirm realistic timelines for introduction to the NHS, for example whether it is the right time to plan and submit towards an NHS Supply Chain tender, or to officially notify NICE regarding a new diagnostic (for example) versus engaging initially with the Office of Market Access or Early Scientific Advice Programme; and whether to anticipate a NICE MedTech Innovation Briefing (MIB) in the first instance rather than a full appraisal via the Medical Technologies Evaluation Programme (MTEP) or Diagnostic Assessment Programme (DAP) as well as the likely timelines from start of these processes through to a decision or recommendation.
Interview projects take into account a 360 viewpoint of relevant stakeholders and are packaged into affordable, quick turnaround, workstreams consisting of 10 interviews plus a PowerPoint of insights and next steps.
Comments regarding previous insight projects follow:
"We commissioned Christie / Gatehouse ICS to undertake market research to assess the NHS' appetite for an innovative new design of [CLASSIFIED]. We were delighted with both the quality and thoroughness of the work, as well as Christie's helpful and professional manner. We would definitely recommend her services to others."
"The work undertaken by Christie for [CLASSIFIED] was to completed to a high standard, with professional feedback and reports. The level and scope of the market research was beyond that which we expected and she made strenuous efforts to fully understand the concept and customer market prior to implementing the planned programme of work. The findings from her interviews have given us extremely valuable information and have given robust leads for investigation and collaboration. Her choice of interviewees was right on point and her input has been invaluable. Her conduct and approach were both consummately professional and we felt that she showed genuine interest and engagement throughout the process."
"Christie carried out some market research for us relating to use of [CLASSIFIED] by pharma/medtech industry. Christie sourced relevant interviewees, interviewed them and collated the responses into a PowerPoint report with advice and next steps. She presented the report to key stakeholders and this was well received, winning over some sceptics. Christie also helped collate information for a major funding application, which was successful. The work undertaken by Christie was to completed to a high standard, with professional presentation and reports. The level and scope of the market research was excellent. It is always a pleasure to work with Christie and we know that the standard of work will be very high."